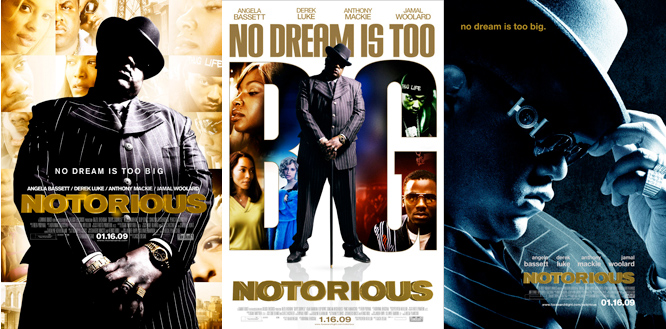 So last weekend, I finally got a chance to go see
Notorious
. Biggie has always been one of my top 5 favorite mc's since I got into hip-hop, and I have seen countless documentaries about the man. Notorious was just a mediocre, glitzed out one. But fuck what I gotta say and check
the review at okayplayer
, exactly what I thought about the movie. It wasn't necessarily disappointing because I expected most of it commin' in, but it was too hyped.
In other word's, the muafuckas over at the Grammys fucked the best artists over...again. After bein' introduced in '96, the Grammys have fucked up too many hip-hop greats. And to no surprise, Weezy ran over everyone winning every hip-hop category he was in, except for "Best Rap/Sung Collaboration", which went to Estelle & 'Ye. Check out the rest.
-
2009 Grammy Awards: Rap
-
Past Grammy Awards Best Rap Album Winners
*Some winners may leave yo ass frustrated. Feel free to leave yo thoughts in the comments.
My Picks
Best Rap Album

* American Gangster, Jay-Z
* Tha Carter III, Lil Wayne

[Winner]


* The Cool, Lupe Fiasco
* Untitled, Nas

[My Pick]


* Paper Trail, T.I.

Best Rap Song

* Lil Wayne - "Lollipop"

[Winner]


* Flo Rida (Feat. T-Pain) - "Low"
* "Snoop Dogg - Sexual Eruption"
* T.I. & Jay-Z (Feat. Kanye & Lil Wayne) - "Swagga Like Us"
* Lupe Fiasco (Feat. Matthew Santos) - "Superstar"

[My Pick]



Best Rap Performance By A Duo Or Group

* Big Boi (Feat. Raekwon & Andre 3000) - "Royal Flush"

[My Pick BY FAR, but Swagga Like Us had mad hype, it was a good track at least]


* Jay-Z & T.I. (Feat. Kanye West & Lil Wayne) - "Swagga Like Us"

[Winner]


* Lil Wayne (Feat. Jay-Z) - "Mr. Carter"
* Ludacris (Feat. T.I.) - "Wish You Would"
* Young Jeezy (Feat. Kanye West) - "Put On"

Best Rap/Sung Collaboration

* Estelle (Feat. Kanye West) - "American Boy"

[Winner]


* Flo Rida (Feat. T-Pain) - "Low"
* John Legend & Andre 3000 - "Green Light"

[My Pick]


* Lil Wayne (Feat. T-Pain) - "Got Money"
* Lupe Fiasco (Feat. Matthew Santos) - "Superstar"

Best Rap Solo Performance

* Jay-Z - "Roc Boys (And The Winner Is)..."
* Lil Wayne - "A Milli"

[Winner]


* Lupe Fiasco - "Paris, Tokyo"
* Nas - "N.i.*.*.e.r. (The Slave And The Master)"
* Snoop Dogg - "Sexual Eruption"


[My Pick: Either Nas's "N.I.*.*.E.R." or Lupe's "Paris, Tokyo woulda been cool wit me.]